Cool Story of this 1970 Olds Cutlass 442 – 7.5 Liter Big-Block V8 Engine
THE CANADIAN-AMERICAN CHALLENGE Cup, better known as Can-Am, was the automotive equivalent of Fight Club, but with fewer rules. In the heat of this bare-knuckle competition, the legendary all-aluminum Chevrolet ZL-1 427 engine was born, and dealer Fred Gibb worked the system to get 50 of those howling race engines installed in '69 Camaros. Nineteen more followed for a total of 69.
But you already knew all of that. What you might not have known was that Oldsmobile, GM's engineering division, eagerly eyed Can-Am's no-holds- barred environment as a place to experiment a little too.
The most radical of those experiments appeared on the cover of the July 1969 issue of Hot Rod magazine. This definitely wasn't your father's Rocket: twin turbos, stack fuel injection, aluminum block with four-bolt mains, forged steel crank, Carrillo rods, forged pistons, Crower roller camshaft, and topped with aluminum heads. Peak power and torque figures at 6,250 rpm soared to 659 hp and 554 lb-ft, but the article hinted that Olds engineers believed 700-plus horsepower was within easy reach.
The car this engine powered (built by famed Indy car builder Bob McKee) was based on a stainless steel and titanium chassis with all-wheel drive. It might've revolutionized the series had GM brass not pulled the plug on Lansing's foray into Can-Am.
Luckily, a handful of these experimental aluminum engines (350s as well as 455s) have survived and found their way into the hands of collectors. One of whom is Fred Mandrick, of Scottsdale, Arizona, a serial 4-4-2 restorer who built this month's stunning triple-black feature car. Oldsmobile never put an aluminum 455 in a production automobile, but Fred wondered what such an animal might look, or more importantly, run and sound like.
This exotic engine was actually assembled from two different 455s: the block from one, the heads from another.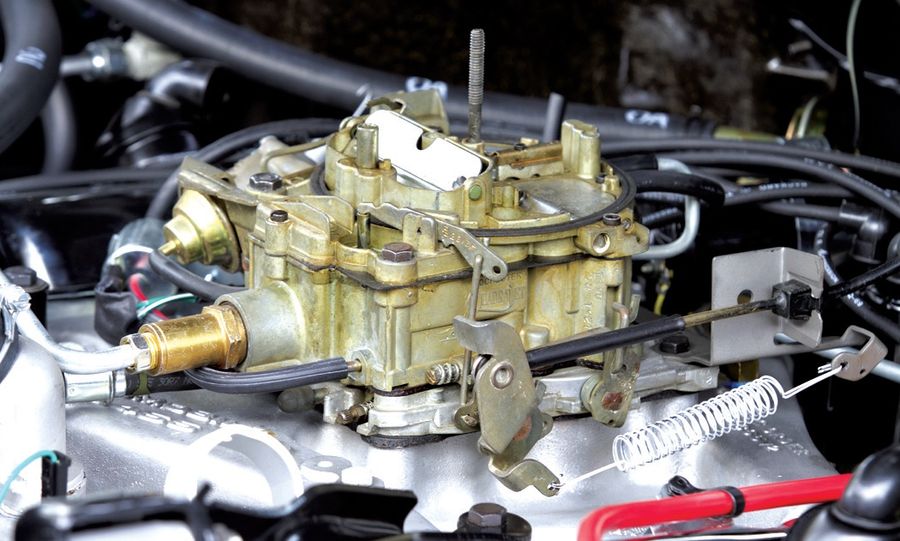 "The guy I bought the block from had built it for a drag car but never finished the project," Fred said. "It came with a set of [aftermarket] Batten heads and a Batten intake. So, I found a second 455 that had a set of correct aluminum heads, and I bought that in order to make a complete engine. The heads had been polished, so we had to media blast and vapor blast them to try and get all of the finishes to match."
The sleeved aluminum block was bored .015-inch, and Chris Shea at 1320 Auto installed custom-ground JE forged pistons for a 10:1 compression ratio. An Oldsmobile forged-steel crank now swings steel H-beam connecting rods.
At the big, lightweight V-8's heart, a Lunati hydraulic roller cam was installed to activate Harland Sharp roller rockers and stainless valves—2.00-inch intake and 1.62-inch exhaust.
https://www.youtube.com/watch?v=vCAm4w5WhFY&feature=emb_title