Double-Chopped 1969 Pontiac GTO Is the Wide Track King with a 1,000 HP Crown
As we've implied in the past, we'd take a chopped car over one featuring a widebody any day. But who said we can't have both? Certainly not the shop that built this 1969 Pontiac GTO, which features a double chop, while adding some serious real estate in the fender department.
By the 1969 model year, Pontiac had already introduced the second iteration of the GTO (MY68) that built on the massive success of the original, which was one of the first 1960s machines to mix an intermediate body with a monstrous engine normally destined for a full-size vehicle.
nd the Gen II was lower than the car it replaced, while losing the latter's vertical headlight layout in favor of a horizontal setup. Thus, we could say this project draws inspiration from the automaker's own effort, even though traditionalists will probably disagree.
That's because this Poncho is quite far away from home and this is where we explain that double chopping part. For starters, the roof has lost 3 inches (7.6 cm), but, if we look at the middle section of the body, we'll find an additional 4.5 inches (11.4 cm) missing.
Moving on to the extra width, the widebody approach is quite restrained and certainly not enough to host the monstrous wheels and tires now fitted to the muscle car. However, if we look past the said bit, we'll find the wheel wells are now a full 7 inches (17.8 cm) wider.
As a result of all these changes, the '69 GTO looks surreal, as if it was stepped on by a dinosaur that was somehow careful not to ruin the muscle icon.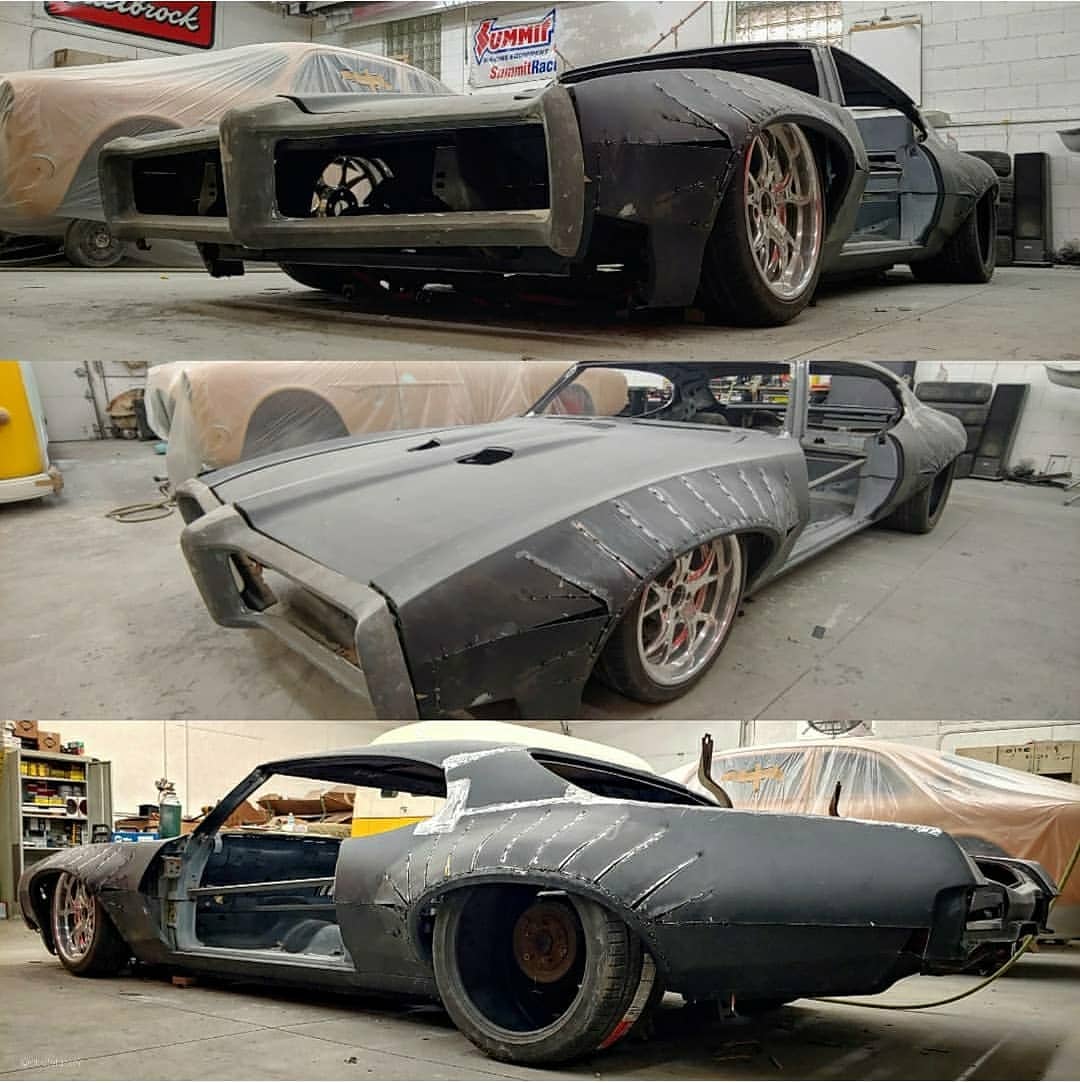 An equally manic tech side for the muscle car
After all, the GTO was set to ride on an Art Morrison GT-Sport chassis, whose inner-angled frame rails that tuck under the body. As for the firepower, we're looking at 1,000 hp coming courtesy of a V8 supplied by Sonny's Racing Engines.
So the Pontiac can probably hit triple-digit speeds quicker than it takes for one to wrap his or her mind around the uber-wide look of the monster, which, by the way, seems to fit the "Wide Track" slogan the defunct automaker introduced back in the late 1950s to emphasize its sporty image within GM.